Bio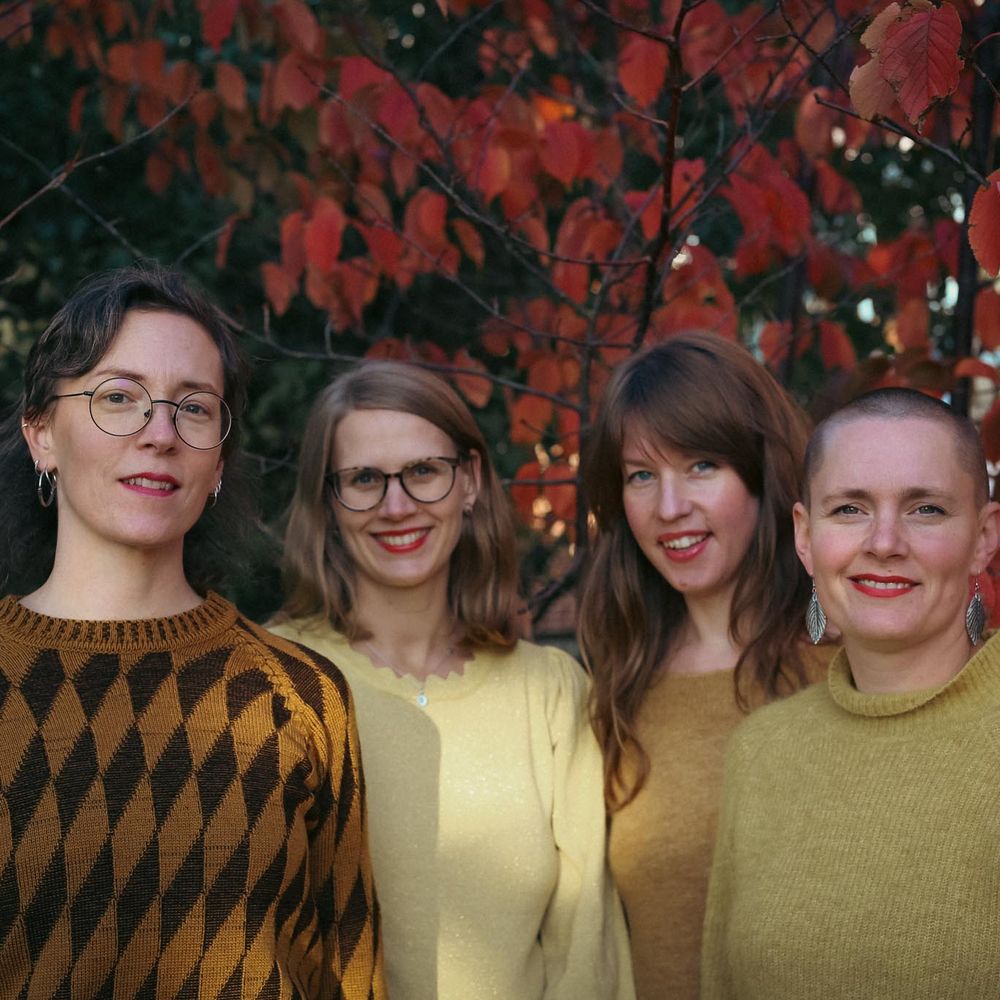 the bandettes
heartwarming scandicana with a pinch of jazz
- Tongue firmly in cheek since 2012 - 
"As time goes by, we're growing stronger in each other's company - and it's still good. I guess the stars align."
The Bandettes (Malmö/Gothenburg) consists of: Anna (guitar/mandolin/vocals), Hannah (bass/vocals), Kajsa (keys/backing vocals) and Emeli (drums/vocals). Celebrated 10 years of being a band in 2022.
Their music - "a flurry of irresistible hooks, contagious melodies and arrangements that reel you in and hold you" might best be described as Folk/Country/Americana with a nordic shimmer, seasoned with some sprinkles of pop and a pinch of Jazz.
Childhood friends Anna and Hannah wrote their first song together in 8th grade which they were busking with all over the town of Gothenburg. Ten years later, Anna and Hannah reunited in Malmö and decided to start a band. The final pieces of the puzzle were added via Kajsa and Emeli who brought Jazz influences to Anna and Hannah's Folk/Country Pop -  the distinct mix of genres that makes up their unique sound. It was love at first band practice and The Bandettes was born.
Their debut album, Take Me Home, was recorded in the winter in the southern Swedish countryside where the band was literally snowed-in, whilst recording their summery songs. The band members co-produced the album and released it in 2013 on their own label Take Me Home Productions. 
When the video to their first single, The Beard Song, was released, it quickly went viral. The song was later featured in Thursday Night Football on CBS, and on BBC World Service, and was described as "the perfect example of humour, light-heartedness and pogonophilia. It makes you laugh, it makes you smile but underneath it all it is a well-formed song played with soul."
The Bandettes also appeared with the song "Wanted (unplugged)" on a compilation album associated with the Swedish political party F! along with Robyn and The Knife.
Their second release, The Joker, dropped on May 1, 2015. It was recorded in Studio Möllan in the heart of Malmö, with the engineer Emil Isaksson and his assistant, Rasmus the dog. The Joker, also released on Take Me Home Productions, is inspired by a game of cards; winning and losing, love and hate, friends and enemies. It's about putting on a poker face, and not always following the rules. The music took a more serious path, but without losing the characteristic tongue in cheek. March 8th 2017, the single Try a Little Bit Harder was released.
After a few years of playing shows, participating in a songwriting project at Hinseberg Prison, and graduating school the band entered a long-distance-relationship when Anna moved across the Atlantic and back, and Hannah moved to Gothenburg. A pandemic and four kids later The Bandettes finally got back to the stage in March 2022. They celebrated their 10-year-anniversary with a show where they drew a full house at Victoriateatern in Malmö.
"I liked their country and folk-tinged debut album but live they grow into something much more. They have a good energy and fine interplay between them, both musically and stage-wise. … Combined with the band's obvious joy in playing, it's enough to floor me." (Ralph Bretzer, Skånskan)
During 2022, 10 new songs were recorded, this time with guitar player Anna as engineer and producer. The result "As the universe is expanding…"  - their third release - will reach your ears May 26th 2023. This album is about life, death and everything in between. About the power of a long-lasting friendship that blossoms into a family, and the roots they've grown. The family where you don't have to be a high achiever, from where you get the courage to laugh at monsters. Songs about the fact that we actually don't know what happens when we die, intertwined stories about miscarriage, and that feeling when you realize that you like your friend's cat more than the friend itself.

First single from the album "First snow" was released Nov 25th 2022, about that melancholic feeling in times of change. Change is hard - but someone has to be the first to dare to dive from the sky - and if we stick together we can make the world a little bit more bright.
A single snowflake is harmless - but together we can form an avalanche.